Discover more from The World of Dust-to-Digital
Presenter of music and sound cultures.
Home Again
A roundup of recent trips up north and out west as we begin shipping "Excavated Shellac" box sets!
From time to time, Lance and I go on the road and connect with people outside of our normal routine of email, shipments, and social media posts. Recently, we were invited to speak at events in Tulsa, Brooklyn, and San Francisco. We had many memorable experiences with some amazing people. Here are some highlights from the travels.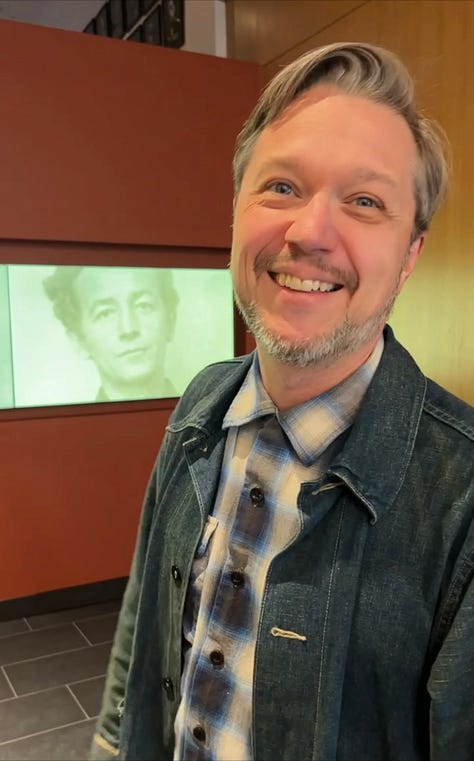 While in Tulsa we had a chance to visit the Bob Dylan Center and the Woody Guthrie Center. The museums are right next to one another, around the corner from the Zarrow Center where we spoke. Each space is filled with its own stories, artifacts, and historic treasures. Lance was especially impressed with the business card of Victoria Spivey that Bob Dylan carried in his wallet. See the photos above of Dylan and Spivey along with her business card.
A couple weeks later it was time to go again — off to the Brooklyn Folk Festival presented by our friends at the Jalopy Theater: Eli Smith, Lynette Wiley, and Geoff Wiley. I packed a merch suitcase for the first time in years, and I'm glad to say I've still got it. The merch suitcase requires a fine balance of anticipating the right items to take with mostly just making it all fit in under 50 pounds to avoid Delta's heavy bag fee. And thanks to my mom for being our Uber (5 stars) to and from the airport! The festival was incredible and included a touching tribute to our past collaborator, the late John Cohen. As for our presentation, it was an honor for our talk to follow the Alan Lomax Archive, including co-presenter Anna Lomax.
The World of Dust-to-Digital is a reader-supported publication. Both free and paid subscriptions are available. If you want to support our work, the best way is by taking out a paid subscription.
During the first part of our trip to San Francisco, we were hosted by the Wattis Institute as part of their Drum Listens to Heart exhibition dedicated to exploring alternative forms of percussion. Lance put together a series of videos that he presented featuring a wide variety of percussion, and it was quite impactful. It was also moving to be able to visit with Dust-to-Digital fans, long time label supporters, and friends who came to see the presentation.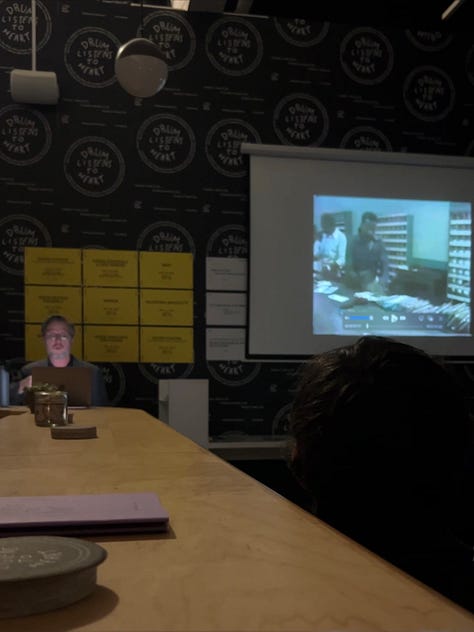 During the second part of our west coast trip, we visited with dear friends Barbara "Barb" Bersche and David Katznelson along with their beautiful family. Barb is an exceptionally-talented designer that Lance and I have had the pleasure of working with since 2012. You can see her work in the design of our following productions: Pictures of Sound, Music of Morocco, Voices of Mississippi, among others and most recently the Excavated Shellac box set. Her husband David is a music producer and record collector with whom we could talk for ages, a musical force.
Last Monday, we traveled home from San Francisco. The next morning we woke up to a call from the freight company wanting to schedule the delivery of the Excavated Shellac box sets that we've been anticipating for months. Our warehouse is in north Georgia, about an hour and 45 minutes from Atlanta, so we rushed out the door so we could begin shipping pre-orders as quickly as possible. Our family, Lance's parents, sister, and her youngest son all helped us over the next three days. We're almost caught up on the pre-order shipments and will be heading back to the warehouse tomorrow to ship all remaining and new orders. We appreciate all the support behind this new release!
The World of Dust-to-Digital is a reader-supported publication. To receive new posts and support my work, consider becoming a free or paid subscriber.